TOP MESSAGE
Since the establishment in 1960, KONGO INDUSTRIES CO.,LTD. has met the needs of the customers and continued as a first company to offer the Overhead Doors in Japan. Half of century in follow KONGO INDUSTRIES, although it was the time something more change and growth than any other time in the past, we shared the mission and responsibility to support as part of social infrastructure with the customers, and what we were able to come in follow together is our huge pride indeed. Our products have in technical strength which was developed with above background, and the applicable ranges of our products are expanding not only industrial business but also residential one. In Japanese, "KONGO" means "strong and indestructible thing", and in Buddhism, it means "wisdom and virtue which destroy earthly desires". With our strong frontier spirit, we always crystallize our wisdom and continue to challenge our best production with sincere efforts.
CORPORATE POLICY
We, KONGO INDUSTRIES CO.,LTD. take pride in Integrity, Creativity and Vitality that in support of it, and contribute to the realization of the wealthy future society.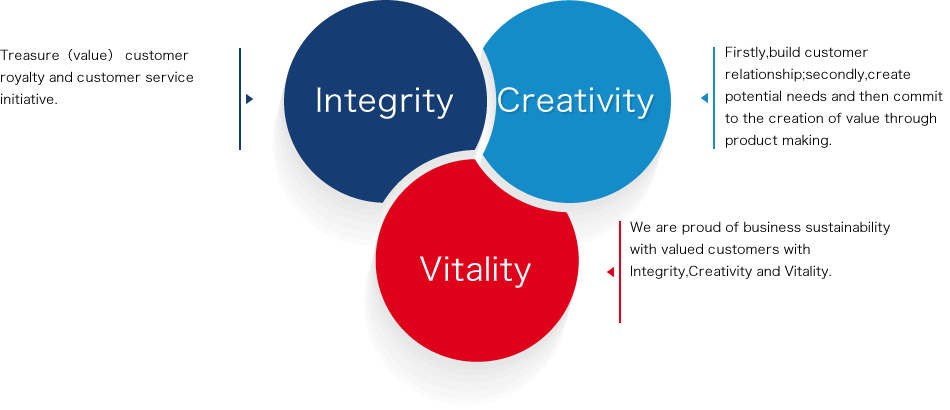 "KONGO" means diamond and shining to take a high polish. We survive severe time because we only continued improving our main business consistently from start of business and now we can give off radiance.
We inherit that "To Be Steady" which is the policy of the founder and we can forward it one more step that we set "Integrity", "Creativity" and "Vitality" as the corporate policy.
"Integrity" means sincerely and seriously, "Creativity" means joy of create, and "Vitality" means have a high spirit. This policy remains integrated in our employees deeply and keeps it in mind so that it will be met to trust and expectation from the customers on the both sides, hardware and software such as past record, trust, quality and after-service.
Based on this policy, the employees work hard to create newly high value-added product in solidarity. Furthermore, we believe that it will be connected for realization of future society with rich and happy. And we integrate with technology which was developed so far and proposal ability, and we also study to challenge into the Asian market where are expected to growth in future.
Struggle with Quality
Inexhaustible challenge to creative. Developing technical strength with high particular and produce the products.
Due to meet the needs of customers, we continue to challenge again and again, never give up and until we understand it. It is a particular for manufacturing of KONGO INDUSTRIES. We never regret the effort to produce better products. This is because we think that it is the responsibility who led to this industry as a pioneer that continue to have a feeling to challenge a new task valiantly without fear of failure.
Our manufacturing begins to listen to the voice of customers = "needs". We centralize that the customer what demand to our products, what thing of expecting as precious source of information for development, and examine closely and decide a concept of new product.
For development, we make a project team for every new product and such team would be consist with professional staff such as sales, design, production, installation, purchasing and will discuss repeatedly, and we develop a high value-added product while working out a plan many times. Moreover, we organize a division who performs to study of materials and fundamental which lead up to develop of next-generation product = lead up of productization of "seeds" mainly as separately from development division. This means that while responding to the currently customer needs and prepare for productization of next-generation "seeds". In a manner, we can say that "dual solution organization for the task" is strength of KONGO INDUSTRIES.
Needs of customers become complication, diversify and high development, e.g. safety, durability, fire prevention, ..... We apply our high technology which will be developed through repeated development and design process day and night, and get on with life, we try to meet every demands of customers and will continue to create a new product from now, too.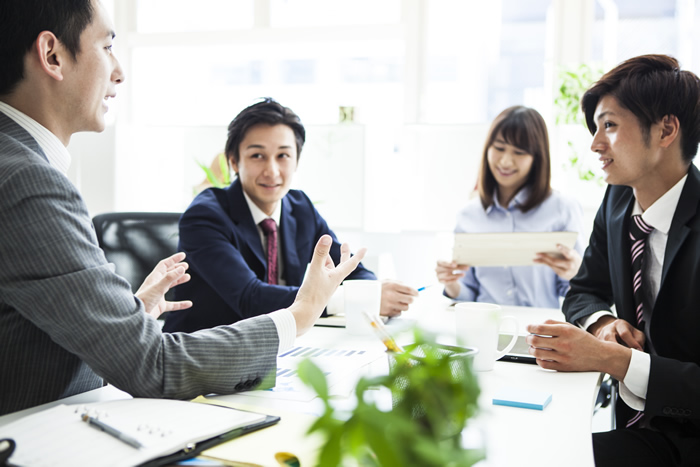 Certification of the quality management system
KONGO INDUSTRIES CO.,LTD. gains reliability through our quality, our prompt delivery, and the certification of our quality management system for planning and developing unique products, which responded to the diversified needs, managed orders, management processes, and total management of maintenance operations. The range of certification: OHD DS